May 5, 2017 3:40 am JST| NIKKEI Asian Review
Abe's constitution revision plan sends ripples through capital
Ruling and opposition party lawmakers scrambling to respond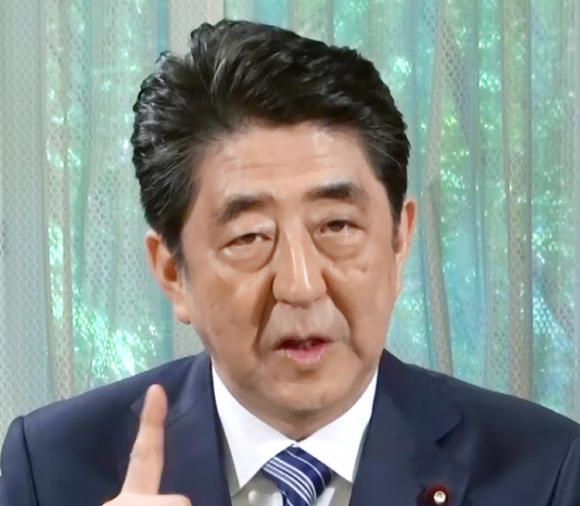 Japanese Prime Minister Shinzo Abe unveils his plan to change Article 9 of the constitution in a video message Wednesday.
TOKYO -- From the conservative ruling party to the opposition, Japan's political leaders are grappling with Prime Minister Shinzo Abe's surprise calls to have a revised charter take effect in 2020.
Many legislators of the ruling Liberal Democratic Party worry about how Abe's ambitious announcement will affect discussions at the upper and lower house commissions on the constitution. Deliberation in these Diet bodies is a crucial step toward initiating the constitutionally required motion to revise Japan's charter.
"It is important to hold discussions in a way that does not divide the country in half," LDP member Gen Nakatani, a director for the lower house commission, told The Nikkei on Thursday. "We also need participation from parties that are not keen on the idea to pursue careful deliberation."
"It's definitely possible that the political opposition will harden its stance and interfere with the commissions' work," an LDP official said. A concern exists that a meeting scheduled for next week, after Japan's Golden Week holidays, could grind to a halt.
Opposition parties slammed Abe when he advocated in 2013 for a change to Article 96, which outlines the process for amending the constitution. They argued that the head of government should not make specific comments on constitutional amendments -- a process that ultimately must be initiated by the legislative branch.
Since then, Abe had avoided discussing the topic in detail. But he broke that silence on Wednesday, not only by mapping out a plan to change the constitution's war-renouncing Article 9 but also by setting a timeline as well.
"It's a message for us to stop dallying," an LDP official said, explaining why Abe risked a backlash to weigh in the debate. Another official thinks the prime minister could reshuffle the cabinet and the party leadership to assemble the best possible team for the task.
Others question how Abe's plan fits with the greater debate in the LDP. The prime minister wants to retain the current wording of the war-renouncing Article 9, but add new language that explicitly references the Self-Defense Forces.
"This idea was not discussed inside the party before," Shigeru Ishiba, a former minister for revitalizing regional economies, said on television Wednesday. He argued that a reference to the SDF would contradict the existing article, which stipulates that Japan shall not maintain "land, sea and air forces."
"Ishiba is trying to differentiate himself, with an eye on leadership once Abe steps down," a source claimed.
May 5, 2017 3:40 am JST
Abe's constitution revision plan sends ripples through capital
Ruling and opposition party lawmakers scrambling to respond
Komeito, the LDP's junior coalition partner, finds itself in a tough spot. Though not an active advocate for revising the constitution, the party was debating the possibility of adding a reference to the SDF. Komeito cannot ignore Abe's proposal, which clearly took into account the party's reservations about revisions.
"We ask that the prime minister wait for each party to reach an agreement within their own ranks, without setting a time limit," said Tetsuo Saito, Komeito's acting secretary-general.
"I think it will be difficult to reach a party consensus," a Komeito source said. "It will be better not to have a deadline."
But opposition party Nippon Ishin no Kai seems to welcome Abe's plan, especially given his willingness to consider a key party goal of free education for all. Former Osaka Mayor Toru Hashimoto, a legal adviser to the party, cited higher taxes on inheritance and financial assets as potential ways to fund free education Thursday on Twitter.
On changing Article 9, "clarifying the constitutionality of the SDF is the most we can do this time," he tweeted. "That alone would be a great accomplishment."
But the leading opposition Democratic Party remains torn, with both supporters and opponents of amending the constitution in its ranks.
Initiating the process for constitutional amendment requires a two-thirds majority in both houses of the Diet. Abe's plan hinges on whether the LDP can joint hands with both Komeito and Nippon Ishin no Kai.
(Nikkei)