CYPRUS: House debates 2015 budget, insolvency laws delayed
11 December, 2014 | Financial Mirror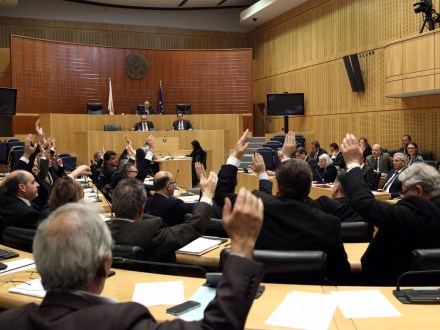 Finance Minister Haris Georghiades kicked off the parliamentary debate around his reservedly optimistic budget for 2015, by calling on all parties to cooperate, while saying that next year will be one of recovery, reforms and changes.
It is time to put an end to time-entrenched interests, and that only radical change will restore the credibility of our political system, he said, calling on government and opposition to cooperate "honestly".
Georghiades also warned that "neither the slogans, nor a rejection will ever rid us of the Troika" of international lenders, possibly addressed to opposition parties Akel and socialist Edek that suggested alternatives to the insolvency bills that were submitted to parliament earlier on Thursday.
The two bills, with three more expected before the House closes for the holidays, should have been voted on Thursday, but have now been postponed to the plenary session next week, when all parties will cast their vote on the government's budget on Tuesday night. Akel and Edek are widely expected to vote down the budget.
The state expects revenues of €5.9 bln and expenditure of €6.6 bln, with a modest growth rate of 0.4% predicted for 2015, 1.6% in 2016 and 2% in 2017.
"We took over an economy under collapse and today we have an economy that is recovering," Georghiades said in his second annual budget speech since the present administration took over amid a national economic meltdown in March 2013.
The minister had earlier said that the banking sector was crucial to the economic recovery, but that obstacles remained, such as the delay in the package of insolvency bills, linked to the other bill on foreclosures, which Akel wanted its implementation delayed by six months and Edek until January 1.
According to the budget, inflation should reach 0.9% in 2015 and will climb to 1.3% in 2016 and 1.5% in 2017. Unemployment is expected to peak at 17% in 2015 and fall to 15.8% the following year and to 14.4% in 2017.
The main sources of revenue are expected to be direct and indirect taxes, estimated at €4.9 bln in 2015 or 83% of total revenues. The rest concerns sale of goods and services, as well as transfers, estimated at €999 mln.
The government also hopes to generate fresh revenue streams from its privatisation roadmap that will see some €1.4 bln raised over the next four years from the sell-off of state assets, such as the telecom and electricity utilities, as well as the Ports Authority, that is expected to be the first to get underway by the end of 2015.
On the state budget's expenditure side, payroll, pensions and bonuses continue to make up the lion's share, but could be slightly less next year at €2.5 bln compared to €2.58 bln in 2014.